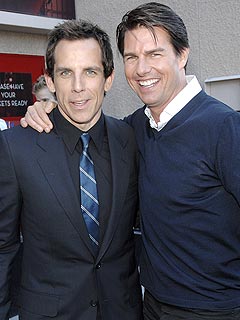 It's been 25 years since he shimmied in his skivvies in Risky Business, but Tom Cruise can still shake it like a pro, according to his Tropic Thunder director Ben Stiller.
"The guy has moves," says Stiller, who also co-wrote and stars in the military-themed action-comedy.
Cruise, 46, is winning raves for his role as a vulgar, venom-spewing studio executive in the movie, in which he's nearly unrecognizable beneath a fat suit, a bald cap and a beard.
The dancing was Cruise's idea, says his director.
"It wasn't in the script," Stiller said during a press day for the film. "He was like, 'You know, I really feel like I want this guy to dance.' "
Some of the physical transformation was Cruise's brainchild too. "He said, 'I really want to have some big, hairy hands,' " says Stiller. "I actually didn't have to sell him on anything."
Cruise isn't the only Thunder actor who took on a controversial, image-twisting role: Robert Downey Jr. has drawn praise for his portrayal of an African-American actor in the movie.
Tropic Thunder hits theaters Aug. 13. (People, August 07, 2008)