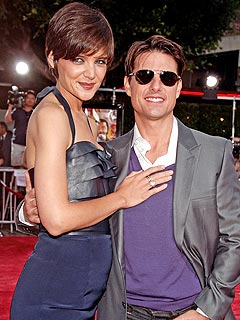 Tom Cruise may only have a small part in Tropic Thunder, but he ruled the red carpet for the Los Angeles premiere.
Cruise, who donned a fat suit to play studio exec Les Grossman in the film, stayed close to wife Katie Holmes Monday night, greeting fans and only letting go of her hand to pose for a quick cast shot.
Other than the fans, fellow star were happy to see the couple – PEOPLE caught Matthew McConaughey, Ben Stiller and Jack Black all giving big hugs to Cruise. And costar Jay Baruchel told PEOPLE that Cruise is "the funniest guy in the world."
Robert Downey Jr., who played an actor posing as an African-American in the film, said he just got out of character after wrapping up the DVD commentary. "The actor, in the movie, said that he never dropped character until the DVD commentary, and in keeping with being a 'method-idiot,' I'm never going to do it again," he said.
Stiller, who wrote, produced and acted in the movie, arrived with his wife Christine Taylor, who also had a cameo (She previously appeared in Stiller's Zoolander and Dodgeball.) .
"It was so much fun for us," Taylor said, adding of the third time she costarred with her husband, "I've gotten used to [it] through the years."
Later, Stiller told PEOPLE the secret to their eight-year marriage is "that it's all about mutual respect, and really being there for that other person. You can't take anything for granted."
As for Tropic Thunder facing some controversy, with Downey playing an African American and Stiller playing Simple Jack, a mentally disabled character, Stiller said simply, "It's a free country." (People)
bauergriffinonline says Tom & Katie praticed patience while posing, since their photographer's memory card ran out of space just as the supercouple strolled up:
"Instead of passing on by, Tom and Katie patiently waited for her to swap out cards, smiling and playfully jesting about her professionalism. Then, with the new card in and their star smiles still sticking around, it all played out perfectly. Thanks for your patience, Tom & Katie!"